Under Construction
Mr. Robert J. Topham Was a Cadet Officer at Campbell HS and Camden HS in the San Jose area between 1954 and 1958. He generously scanned the documents found on this page and wrote a description of his experiences in the California Cadet Corps. Copies of the only know Summer Camp Attendance Certificates from the 1950's are here. If you have any additional material from these cadet corps units, please contact: Webmaster@CalCadetCorps.org
My Experience in the California Cadet Corps
During the years 1954-1958 by Robert J. Topham
Having an interest in the Military Service from an early age to the time of being able to take military science in High School, I was pleasantly surprised that the program known as the California Cadet Corps was available to me as a freshman.
As a green kid just out of grade school, the program offered an opportunity to learn some of the basics of the military such as drill, care of a uniform, discipline and a chance to prove myself in this setting.
What I wasn't prepared for was the reaction of my fellow students not used to seeing other students dressed in a uniform on Fridays for inspection and to observe them drilling on the school grounds. Of course there was a lot of ribbing about all these activities.
The two High Schools that I attended that had the Cadet Program were Campbell High School, in Campbell, California. Our advisor was a Mr. Campbell who was a 1st Lt. in the USMC.
The second High School was Camden High, located in Cambrian Park, near San Jose, California. Our advisors were Verdun Romer (Capt, USAR), Mr. Billings (1st Lt USAR), and Mr. Hanson (Capt, USAR) they were also known as Commandants
During the time I was in the Cadet Corps I was fortunate enough to attend various Leadership Courses, attend three different summer encampments, and participated in extracurricular activities such as Drill Team and assisting with running traffic and ushering at various basket ball and football events
Some of the highlights of attending summer camp was being able to attend the Summer Encampments at actual military bases. The first encampment I attended was at Fort Ord, California. We were quartered in the East Garrison in wood frame structures covered with canvas or tents. One always had to roll up the flaps every morning tightly and prepare our quarters to be inspected with beds made etc. When first arriving there, we had to draw our bedding and bring it to the tents and set up our bunks. We were issued a one piece fatigues and hat for our daily activities which included drill, formations roll call, and at the end of the day retreat
One rather amusing and eye opening event was that we had to use a latrine with a long line of Commodes exposed with no privacy! I remember when using the facilities there a regular army MP came in to use one of the commodes near me and took out his service45 cal auto and pulled the clip out, checked the chamber and placed it on a partition near him while he used the facility.
The next two encampments where spent at Camp San Luis Obispo, California. I found this again very interesting because a lot the buildings were World War II vintage. The camp theater, church and entertainment hall looked as they must have during the war years. The activities we attended were from a variety of classes from survival training put on by the US Air force Police, to leadership classes, to marksmanship training with Military issue .22 caliber rifles. There were night marches that we participated in various formations in various parts of the installation. On the last week there was even a dance sponsored and held in an entertainment hall. The Hall was decorated with World War II murals painted on the walls!
These encampments were especially enlightening as you met and trained with Cadets all over California with varying experience. At times one would run into a Cadet with a less than a cooperative attitude which could be a challenge if you were expected to be responsible for their performance. Also the various Commandants that taught classes came from all different service backgrounds and made it very interesting to attend the classes.
In summation, I found my experience in the California Cadet Corps a very rewarding time and helped me in forming my character, self discipline and self reliance together with a Patriotism to my country. This background certainly assisted me in later life, in the Military and with jobs that I encountered that required certain leadership skills and the assuming of responsibility.
Addendum: Copy attached of Verdun Romer former Commandant at Camden High School obituary.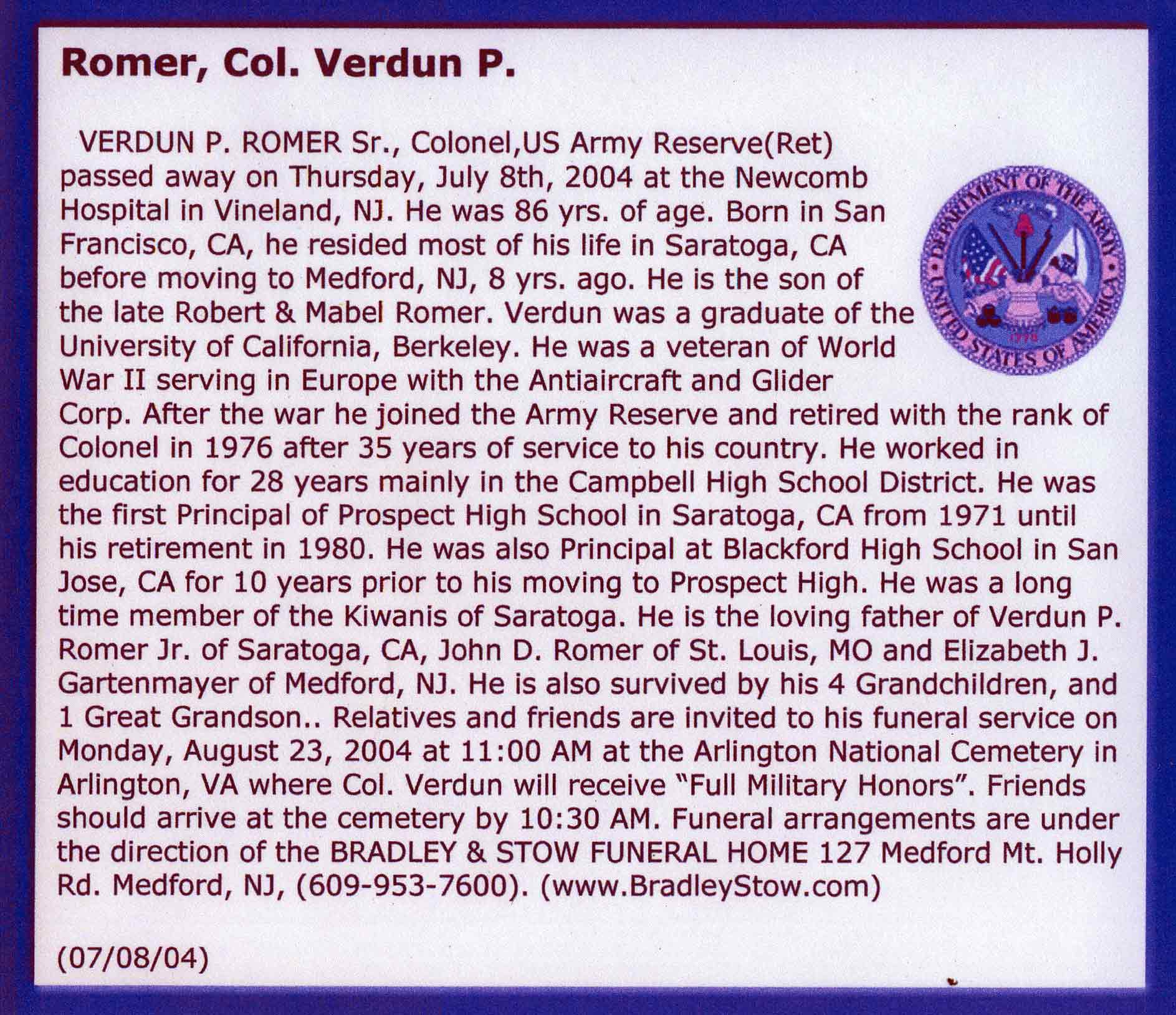 Also Note: Lt. Col. Francis H. Forbes was the Regional Supervisor for Campbell High
School and Camden High School.
The following documents were provided by Robert Topham: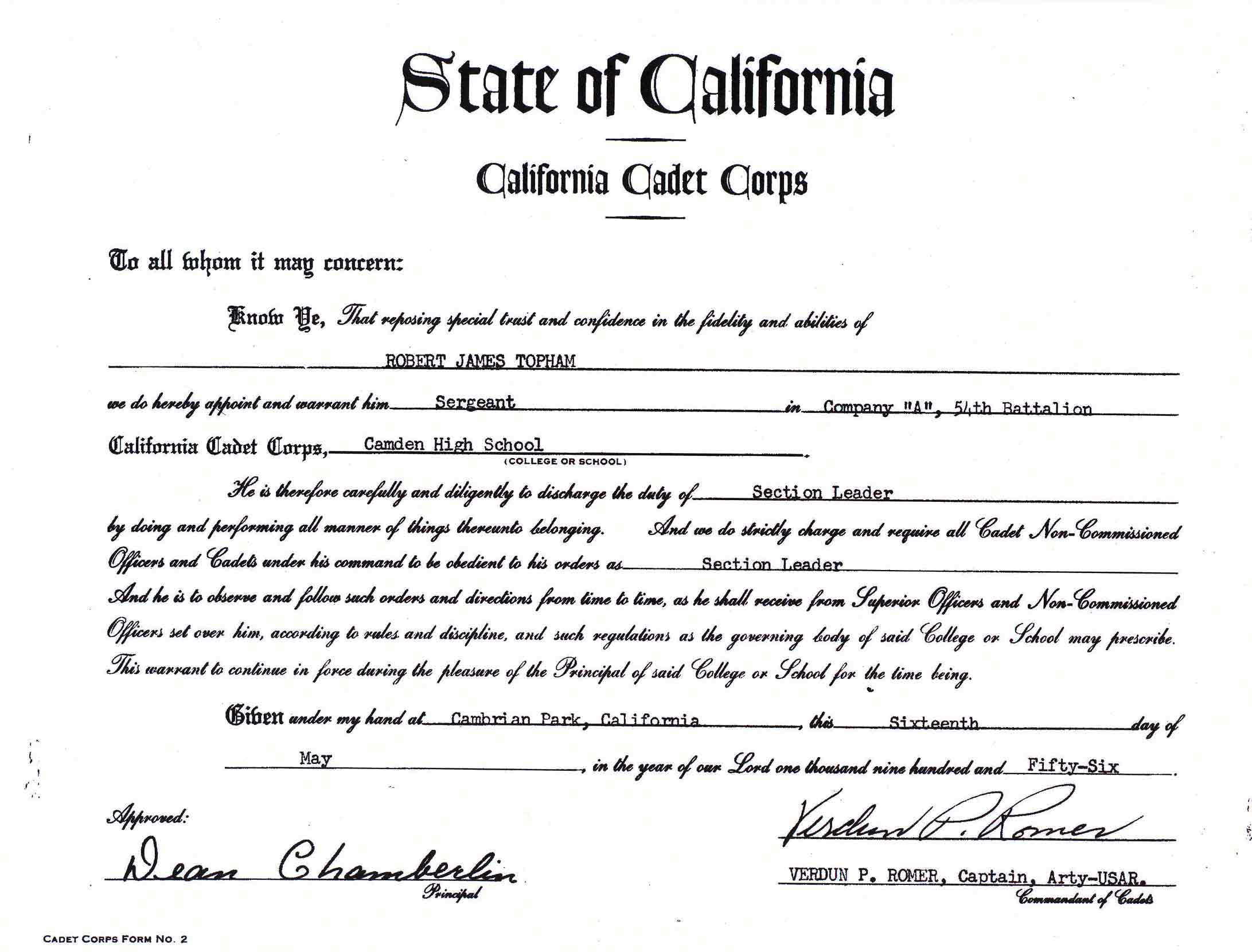 California Cadet Corps NCO Warrant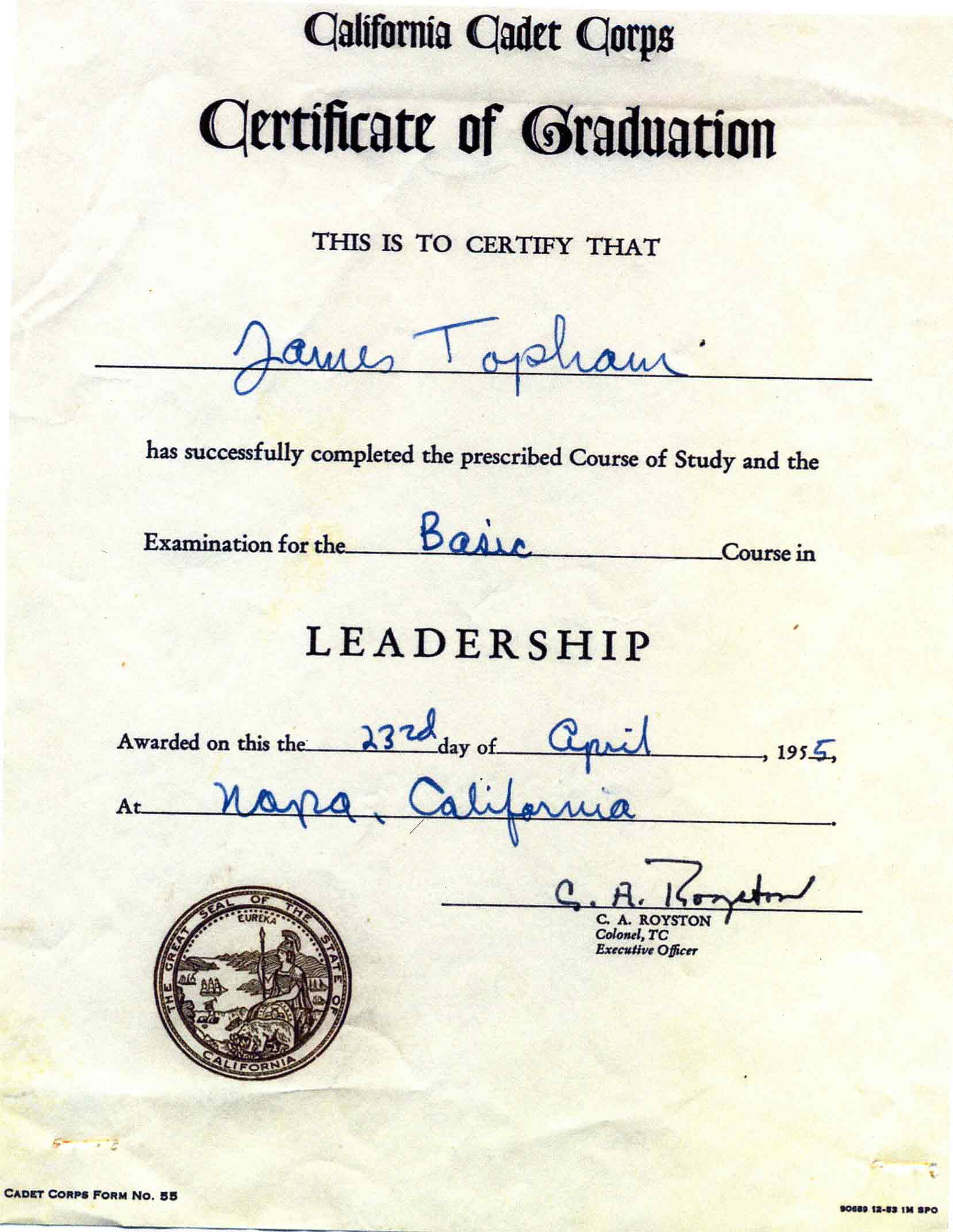 Basic Leadership School Completion Certificate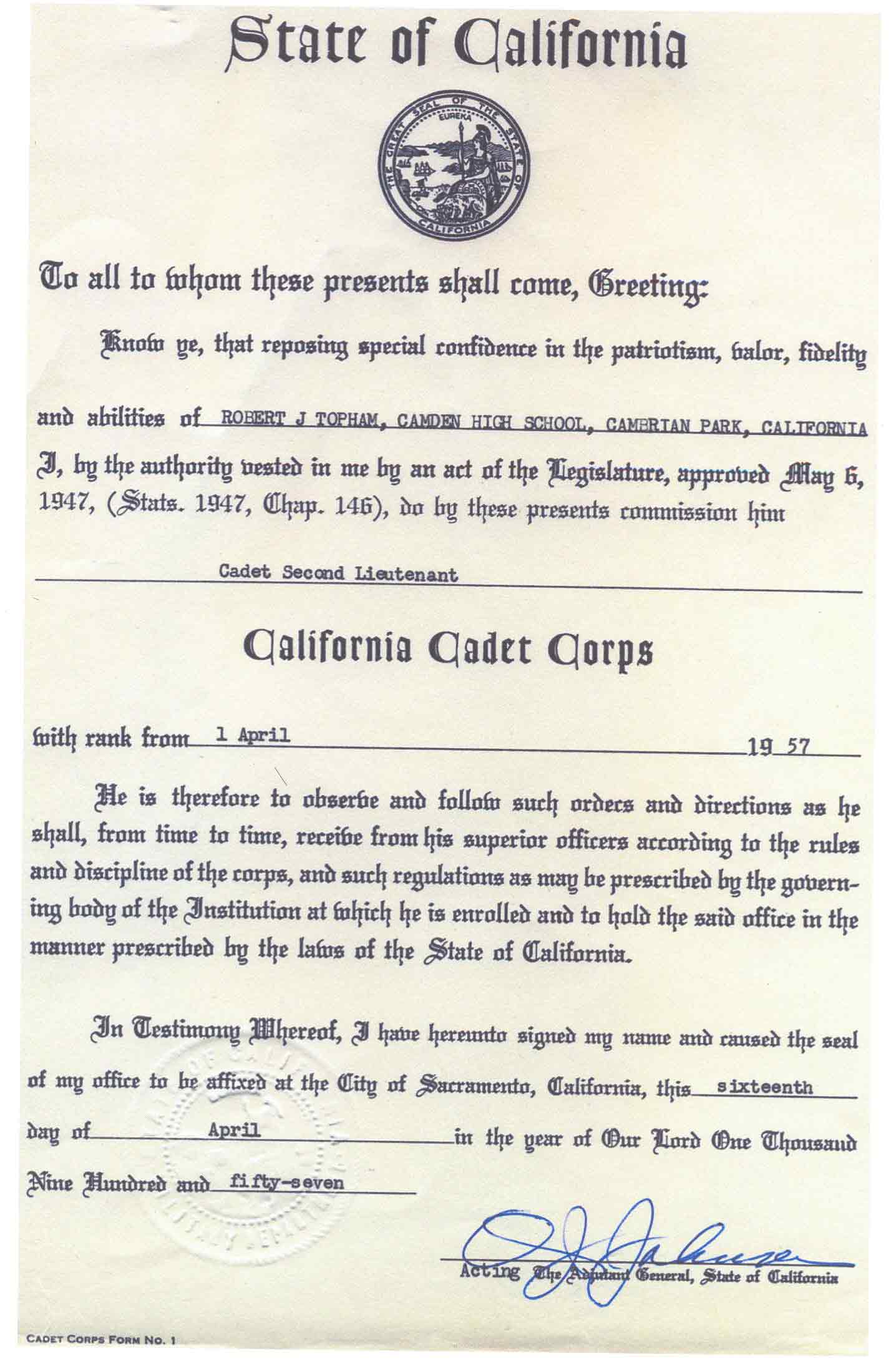 Commission C/2nd Lt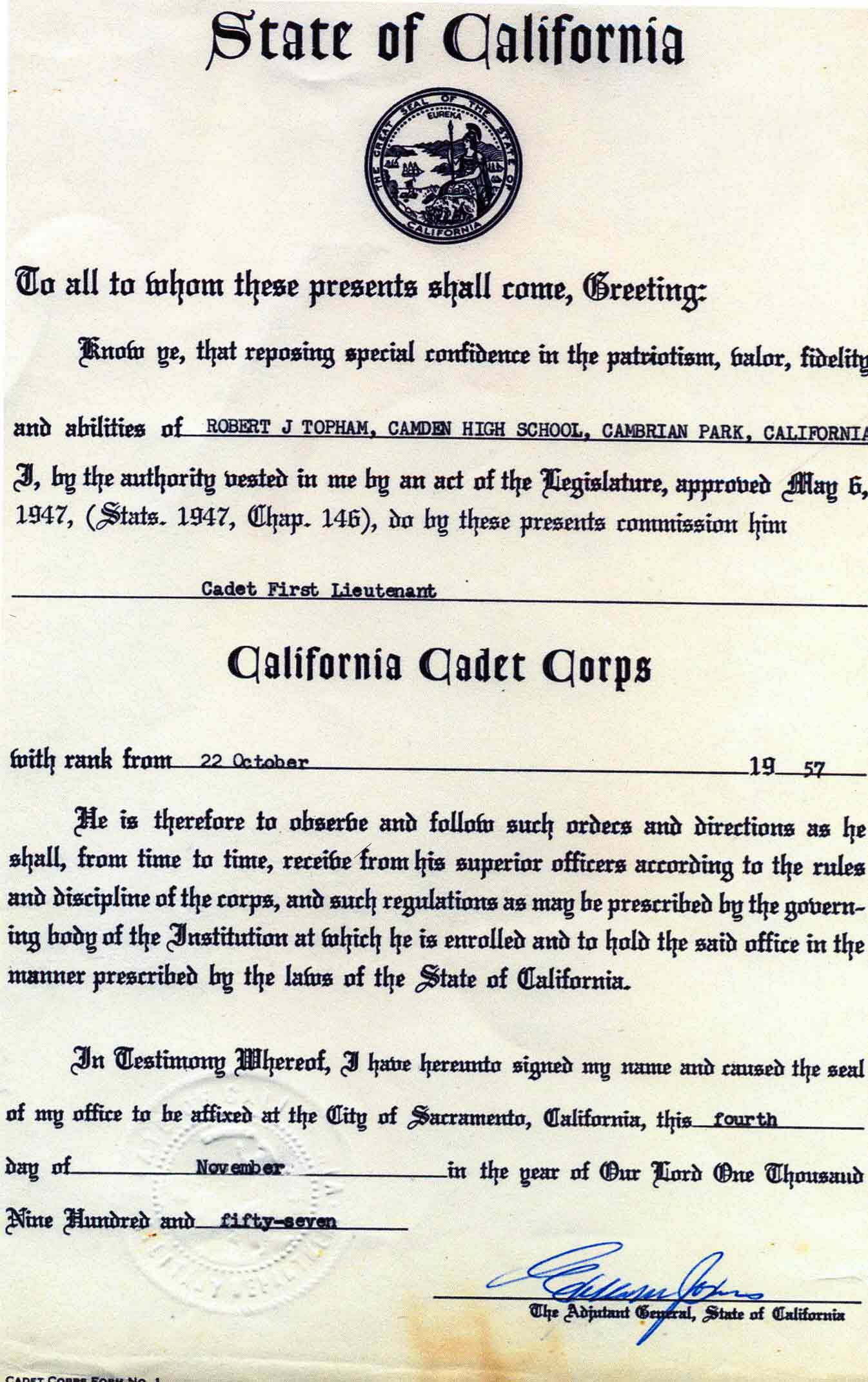 Commission C/1st LT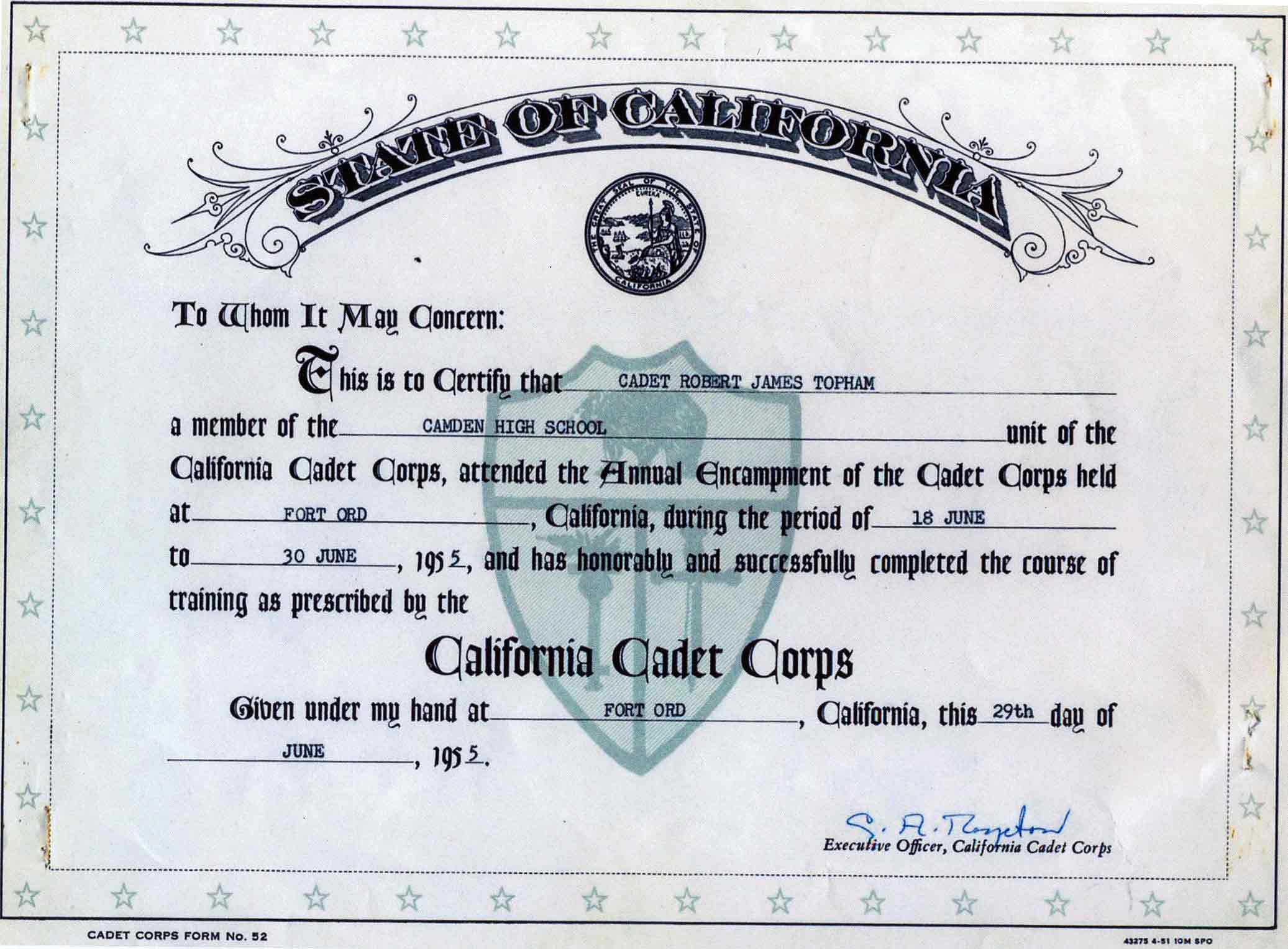 Summer Camp Completion Certificate 30 June 1955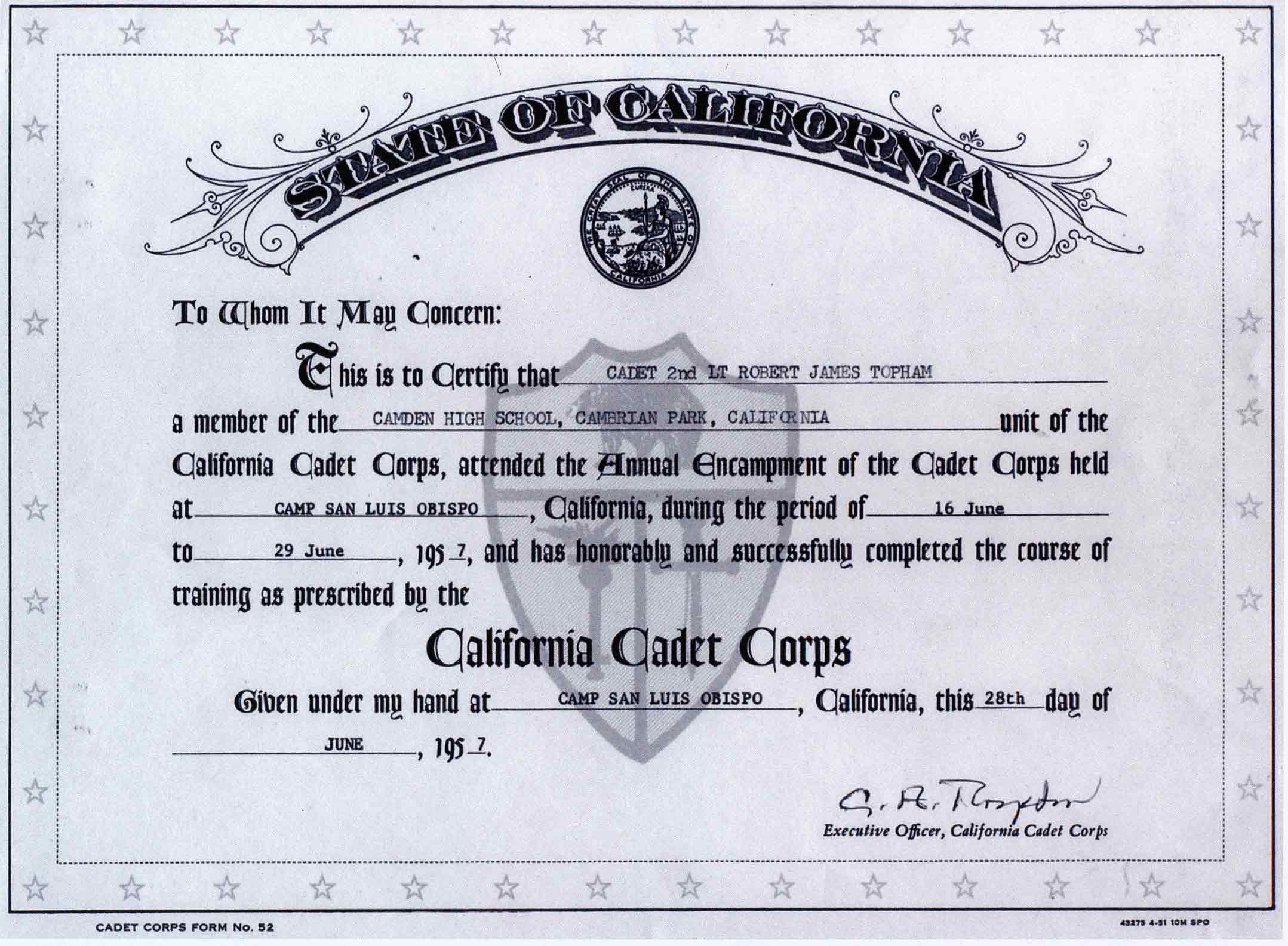 Summer Camp Completion Certificate 29 June 1957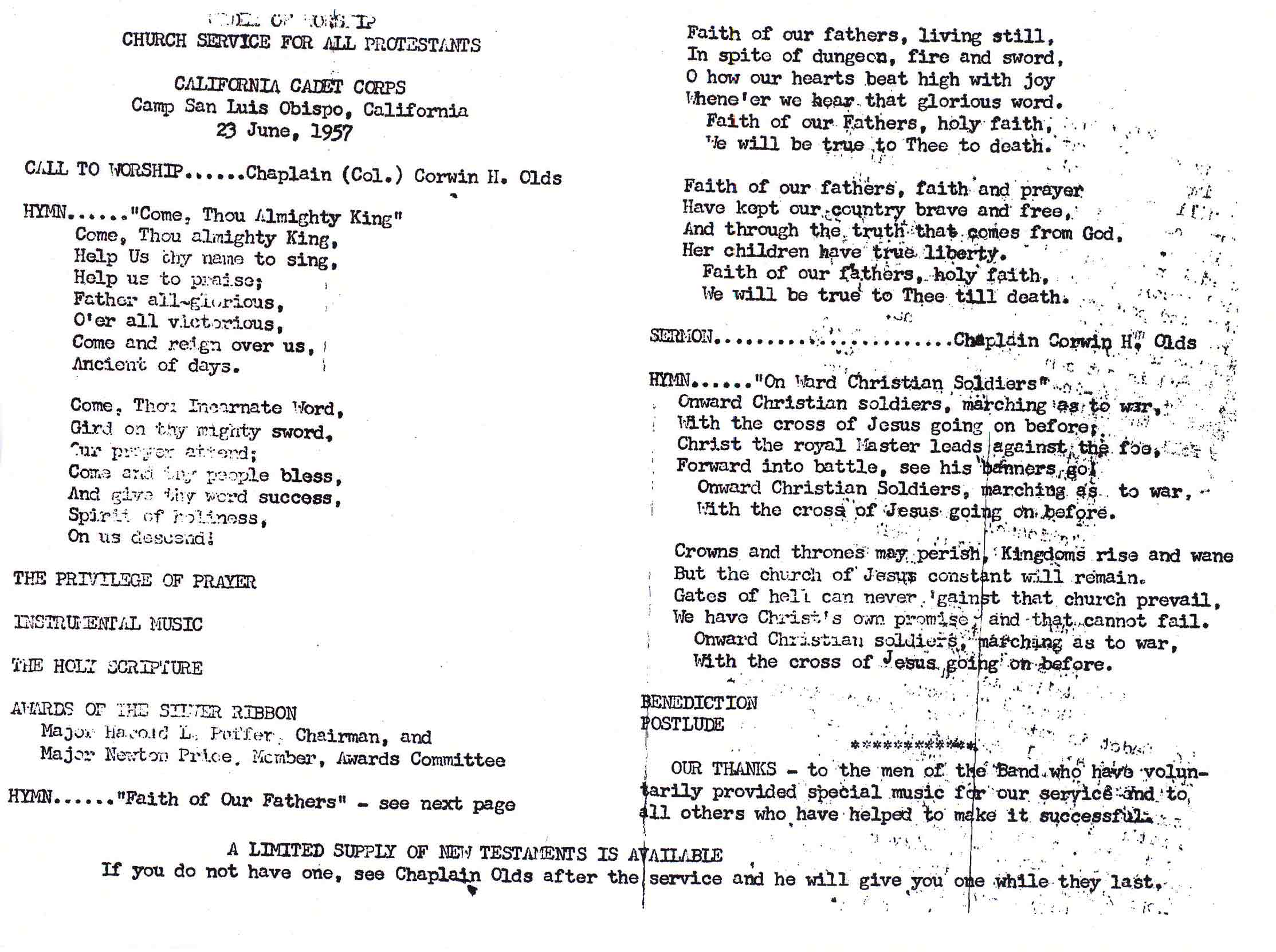 Church Service program from 1950's California Cadet Corps Summer Camp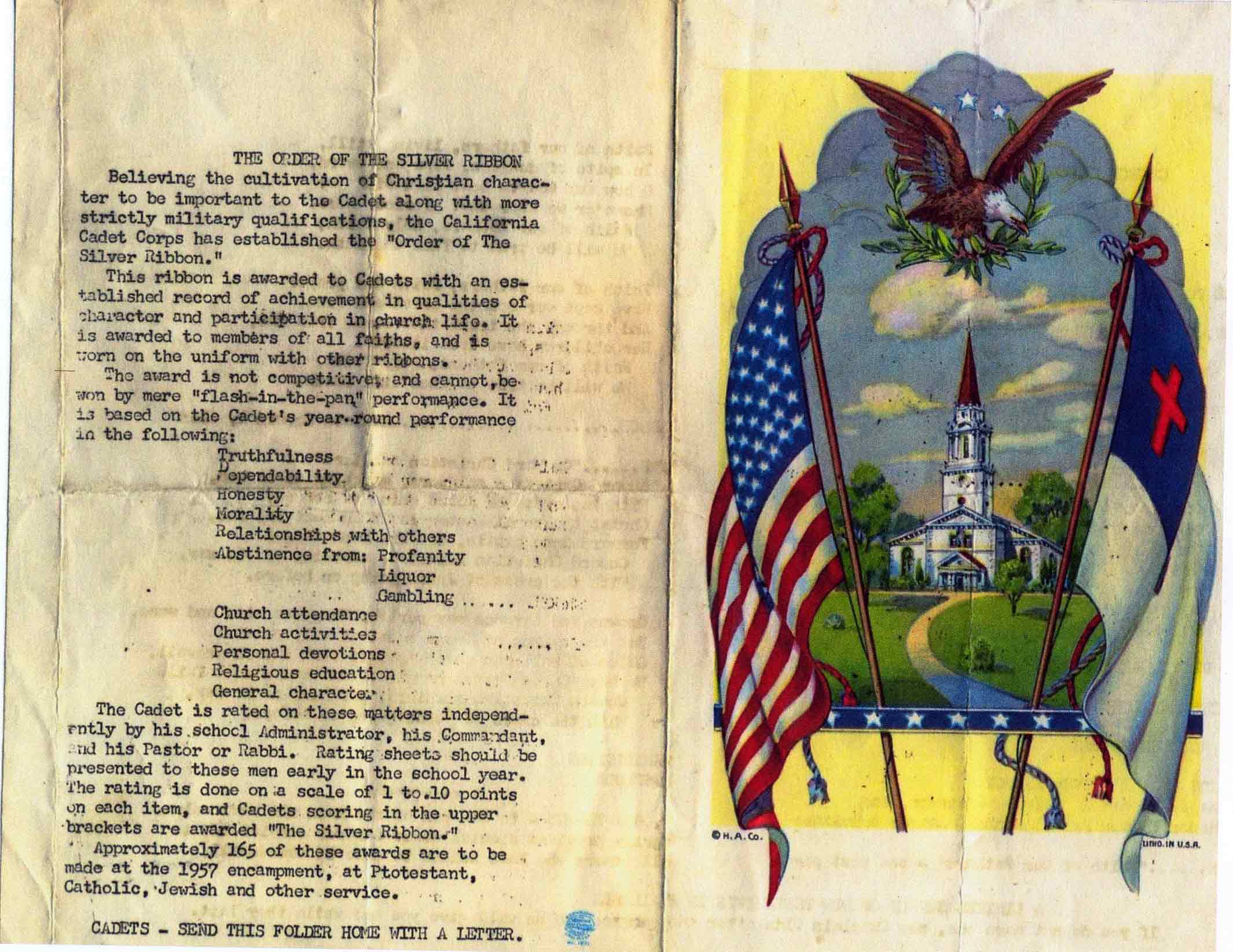 Order of the Silver Ribbon requirements from the 1950's California Cadet Corps Summer Camp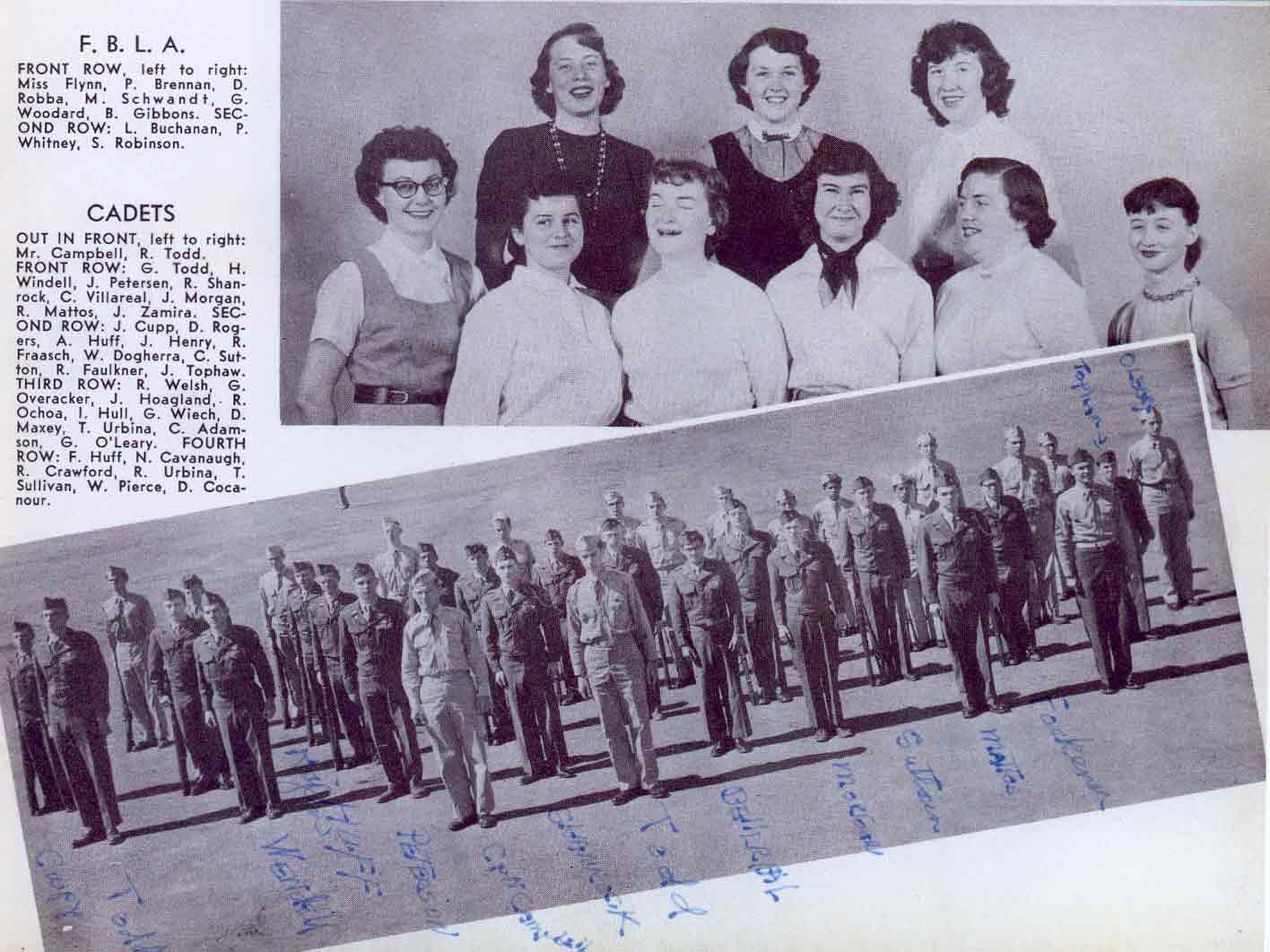 Yearbook Picture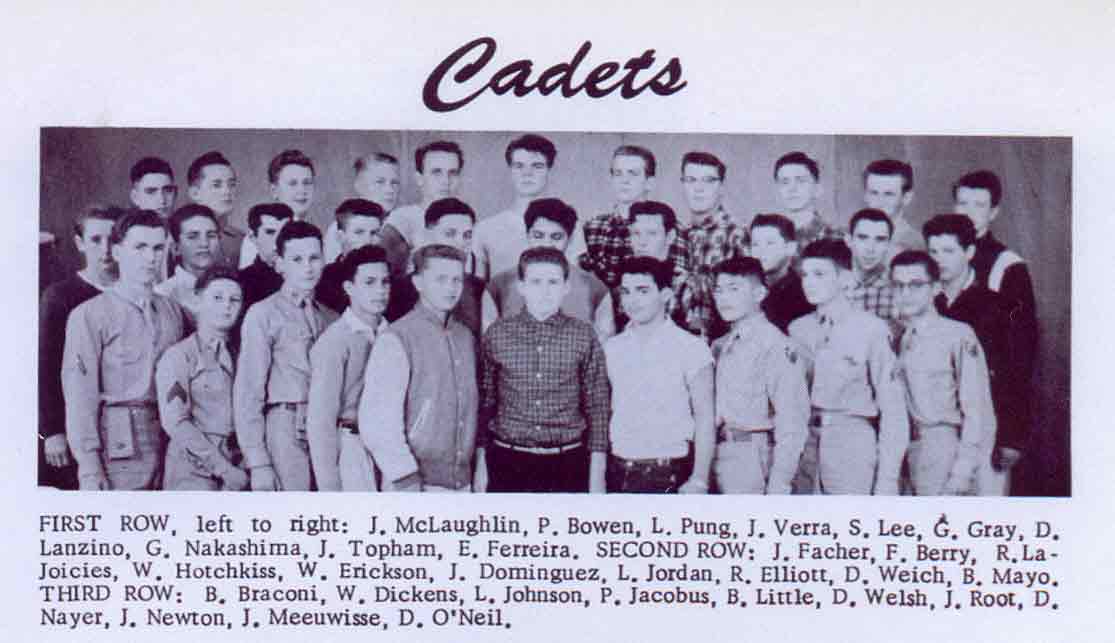 Yearbook Picture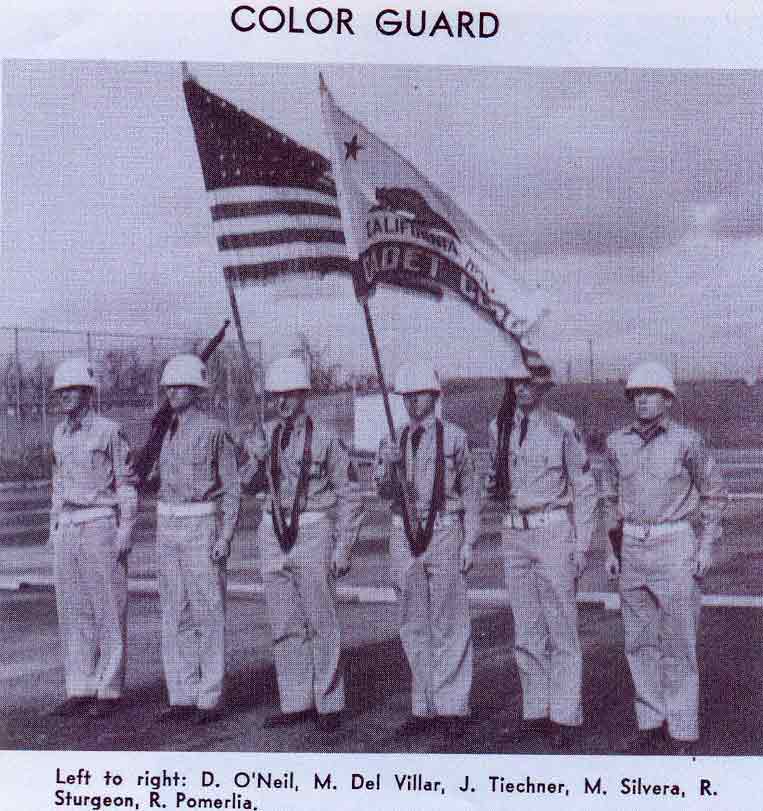 Year Book Picture. Note the old style California Bear Flag that had Cadet Corps on the red stripe.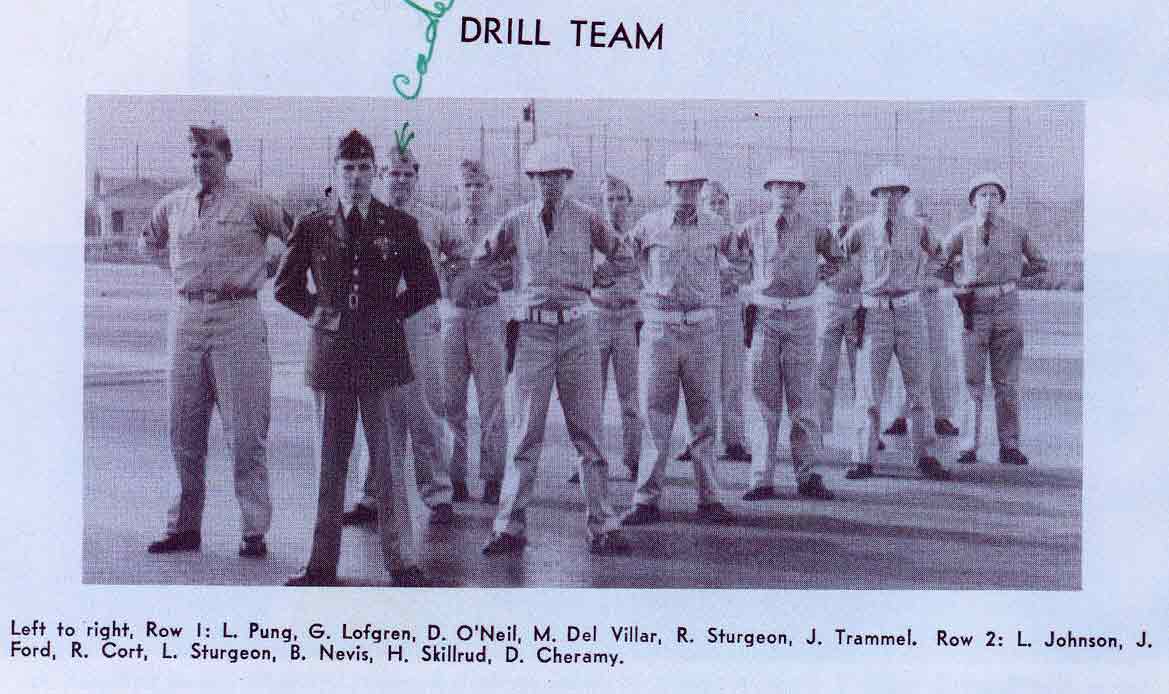 Year Book Picture. Drill Team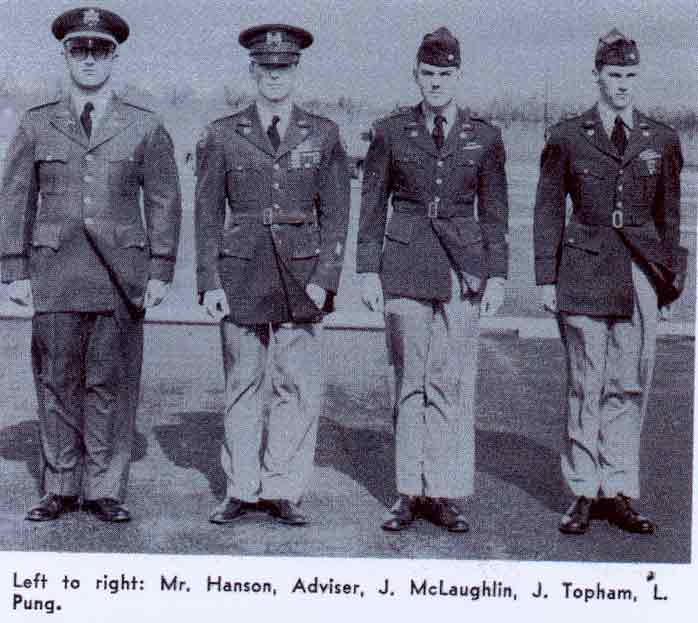 Yearbook pictures of Officers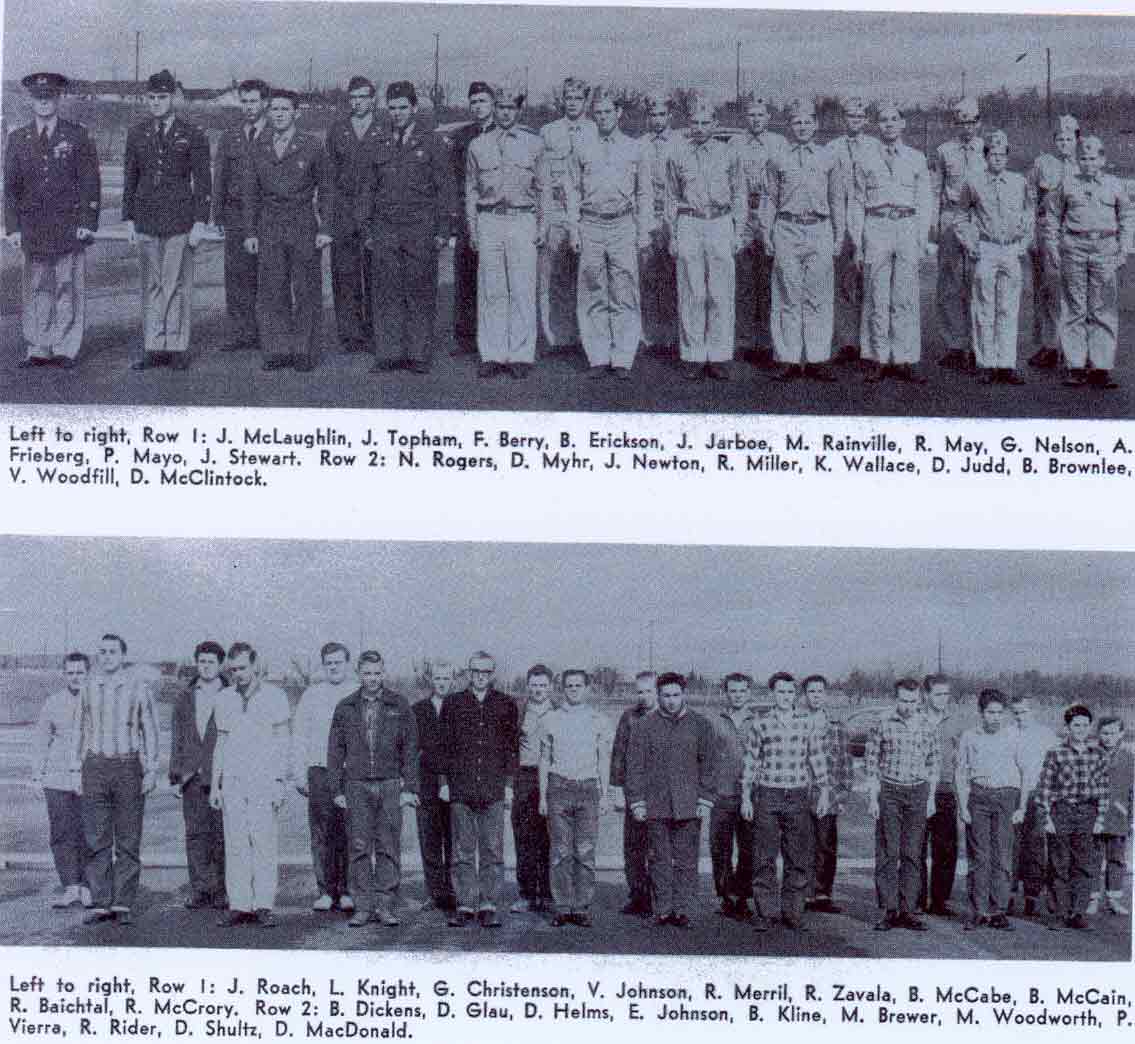 Yearbook Picture